Q & A with Josephine Walker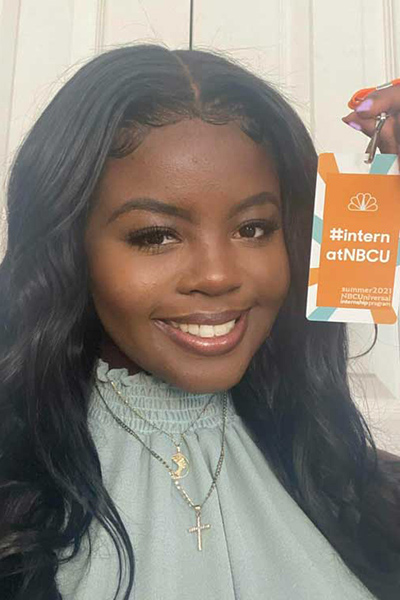 Journalism and democracy go hand and hand, and I'm glad to graduate with abundant transferable skills that will benefit me in any career path.
Why did you decide to study broadcast journalism?
I have always been an avid bibliophile, and especially loved reading and history growing up. I also danced competitively, and eventually transitioned into theatre. My intersectional identity as a Black woman slowly influenced my love for history to politics, and my love for performing arts turned into broadcast journalism. Regardless of what direction I take my career in, I know my degree combination will be useful.
What was your favorite class that you took in your major? And why?
My favorite class so far was VCU Capital News Service (CNS), a capstone for digital journalism majors. I'm majoring in broadcast, but CNS was so fun because it honestly felt like working in a real newsroom! Students report on the Virginia General Assembly and create articles that can be published in the Associated Press' newswire. As a capstone class, CNS also teaches a lot of career prep and has portfolio reviews to prepare you for internship and job applications.
Who was your favorite professor in your major? And why?
It's definitely hard to name just one … Alix Bryan Campos, Veronica Garabelli, and Dr. Aloni Hill have all gone out of their way to check in on my mental health, offer career advice and tell me hard truths I needed to hear. I will always hold a special reverence for Dr. Hill, who has been my National Association of Black Journalists (NABJ) advisor and professor since early 2020. She has not only taught me countless editing tips and tricks, but has also really pushed me to get more involved in NABJ. It was Dr. Hill who recommended I look into both the NABJ scholarships and fellowship I earned this summer, and her literal recommendation that I sent with my application.
Can you tell us about your internship?
I am currently one of the four NABJ-NBC summer news fellows, where I work for Meet The Press. My job responsibilities include conducting print and transcript research, logging feeds and pitching content for NBC Digital. Essentially, I perform a variety of intern-related tasks and assist producers in keeping our accounts and socials updated. Read more about my internship.
Why should students consider mass communications as a major?
While the standards of objectivity in journalism often deters writers of color and other minorities, the free press plays an integral role in achieving social, cultural and political goals. Journalism and democracy go hand and hand, and I'm glad to graduate with abundant transferable skills that will benefit me in any career path.
Even if you're not totally sure what you want to do in life, a journalism degree will allow you to explore every aspect of the media industry and teaches you invaluable skills that can be utilized in any industry.