Media Production
The Media Production program offers comprehensive training in script-to-screen development, storytelling, videography, photography, in-studio/on-location production, Adobe Premiere Pro, Photoshop, After Effects, social media content creation, and audio production. Students learn to craft engaging narratives, hone videography and photography techniques, and execute productions both in controlled studios and real-world settings. They gain proficiency in industry-standard software for video and image editing. With a focus on social media content creation and audio production, graduates are prepared for diverse media production roles.
Courses
The Robertson School is proud of our professional program, as it gives you the skills you'll need to help launch your career. Course topics include the media production industry, media writing, beginning and advanced media production, graphics tools (Adobe Creative Cloud), digital photography, TV studio production and animation. You'll also take courses to give you important big-picture perspectives on entrepreneurship, law, ethics and media careers. You'll finish with a capstone course and projects to add to your already-growing portfolio of work from previous courses to show potential employers.
Careers
As you navigate toward a career in media production, this industry thrives on creativity, adaptability, and innovation. Each of these career pathways offers unique opportunities for you to make a lasting impact and leave your creative mark on the world. Examples of career areas include:
Video Producer
Content Creator
Video Editor
Audio Visual Manager
Multimedia Specialist
Videographer
Multimedia Journalist
Documentary Filmmaker
Media Production Highlight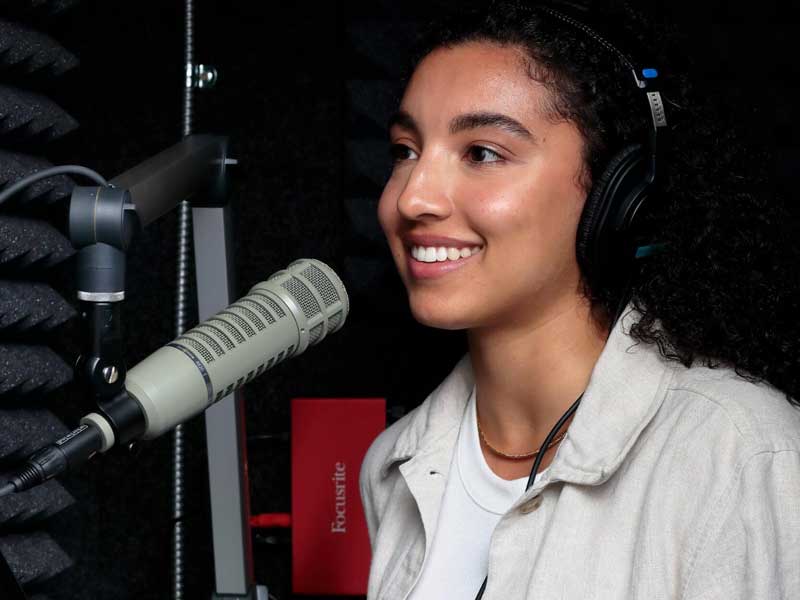 The center, which is opening its physical doors for the first time, is a forum for community storytelling, and a way to find new voices that we need to hear.