Master the practice of communication across all media options.
The online Integrated Communication concentration guides students through the 21st-century multimedia landscape. Courses build upon skills in strategic thinking, content dissemination and leadership.
You can choose to complete the degree in as few as 14 months, or attend part time and build a flexible course schedule that suits your needs.
Ask us how our program can advance your career. We're here to help you learn about our program and help you through the application process. We're ready to help.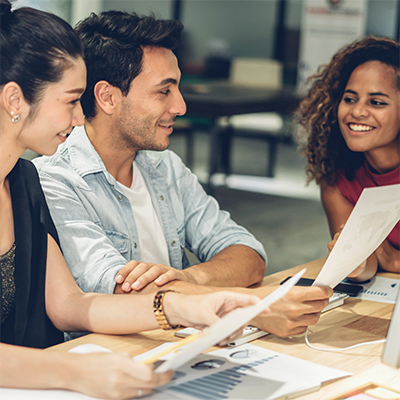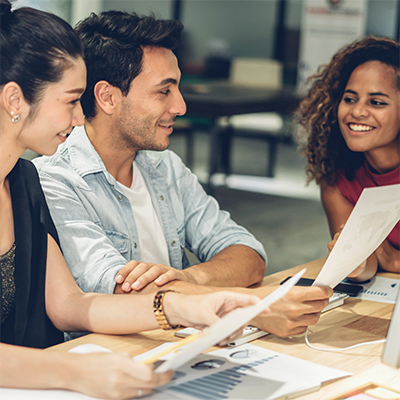 Courses
The degree requires 30 credits of coursework, all of which are in the integrated communication concentration. The program is designed so that on-track students will take three courses each in the fall and spring semesters and two courses in the summer semesters.
The program concludes with an option for a practical capstone project or thesis. Students intending to pursue a doctoral degree are encouraged to choose the thesis option. Students looking to amp up their portfolio will choose the capstone project. Please note that students who wish to embark on an individual research project may choose to do so after consultation with the director of graduate studies if they prefer that over the professional project completed in the capstone.
Student Outcomes
Integrated communication graduates leave the program able to function at the highest levels of management and apply sophisticated strategic thinking to accomplish organizational objectives.
Upon successful completion, you will:
Demonstrate higher level skills in critical thinking
Master written and multimedia platforms to communicate clearly and effectively to inform and engage audiences
Demonstrate the ability to conduct foundational research applicable to mass communication
Apply tools and technologies required for workplaces
Develop a working understanding of strategic message design, persuasion and the ethical principles governing the creation, distribution and reception of messaging
Develop a working understanding of the strategic communications process and its impact on audience behavior and decision-making
More Career Options
Earning a master's degree in communication can help prepare graduates for jobs in corporate communication, journalism, mass media, politics, higher education, or a wide range of other fields. Students who are already employed can use the skills they acquire to advance in their current careers, with some leadership positions even requiring a master's in communication. Those interested in changing careers can pursue their master's in a communication specialization that aligns with their particular professional goals. A master's in communication can also prepare graduates for doctoral studies and a career in higher education, where they will spend their time conducting research and educating students. [Source]
Glassdoor data shows that Marketing Managers earn a national average salary of $65,834. Similarly, the average yearly pay for a Digital Marketing Manager is $74,424. With enough experience, graduates may be able to move into positions such as Senior Marketing Manager. According to Glassdoor, these professionals earn an average of $79,370 a year. Payscale salary data is higher with an annual salary of $99,585, which just demonstrates that salaries for senior marketing managers can vary widely depending on geography, experience, and industry. [Source]
An example career pathway may include a role similar to a Communications Executive. A Communications Executive plans and directs communications programs that effectively describe and promote the organization and its products and oversees market and public opinion research to assess program outcomes. Top Communications Executives approves promotional campaign ideas in various types of media, as well as counsel top management on effective communication strategies. Requires a bachelor's degree." [Source]
Example Job Titles
Marketing Consultant
Marketing Account Executive
Market Research Analyst
Public Relations Manager
Internal Communications Manager
Sales Account Executive
Learning and Development Analyst
Human Resources Manager
Journalist
Speech Writer
Political Campaign Manager
Technical Communication Specialist
Health Communication Specialist
Web Producer
Fundraising Manager
Non-Tenure Track Academic (e.g., lecturer, admissions director, academic advisor, etc.)
Tenure-Track Professor
Community College Professor