Why Robertson?
You found us. That's the first step. Here's why you can stop searching for mass communication schools.
We make excellent storytellers and confident communicators. We turn ambition into action and elevate dreamers into media professionals who go on to have amazing careers. That's not just 10-cent marketing copy. Go check the LinkedIn profiles of some of our graduates — they're impressive.
When you're done exploring your options for mass communications programs, we know you'll come back to us. We're big enough to get you where you want to go, and small enough to know your name. We're different. Different is good.
Ready to start your career in the media industry? Let us show you how.
Check out the academic options offered by the Robertson School.
News
May 11, 2023
Dyche, who is earning a Ph.D. in Media, Art and Text, is "at the forefront of a growing conversation about how universities can help prepare students for careers in this growing industry," her dissertation director says.
April 17, 2023
With a summer internship linked to Vogue magazine, criminal justice major has designs on following her passion for fashion.
March 30, 2023
In its 16th year, the longest-running college CreateAthon gave five Richmond-area nonprofits new resources to "succeed and be sustainable" in marketing themselves long after the semester ends.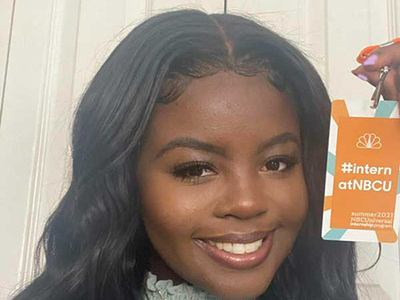 Meet Josephine
Josephine Walker, a broadcast journalism student, put her major to use as a summer intern for NBC's Meet the Press. Visit our 'Meet a Student' page to read more about Josephine, including her favorite courses, professors and more.