Robertson School Media Production student short film chosen by The Pacific Northwest Film Scoring Program at the Seattle Film Institute.
March 27, 2023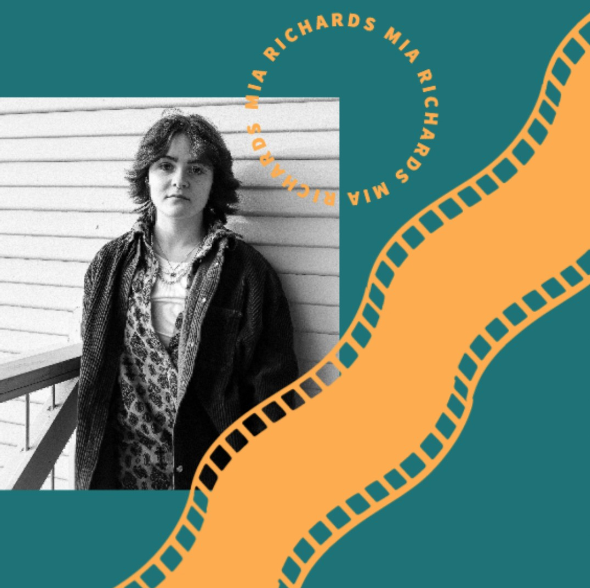 Mia Richards has always had a passion for storytelling, but it wasn't until recently that they found their true calling in filmmaking. Their latest project, "Her Birthday Balloons," is a short film that is sure to leave a lasting impression on audiences everywhere. Directed, edited, and written by Mia Richards, "Her Birthday Balloons" tells the story of two friends who come together to remember their late friend June on her birthday. The film is a powerful exploration of loss, grief, and the enduring power of friendship.
Every year The Pacific Northwest Film Scoring Program at the Seattle Film Institute offers only four student short-films world-wide an original, professionally produced and composed sound-track, recorded by professional musicians in a world class recording studio. in 2023 Mia Richards "Her Birthday Balloons" was one of those recipients.
The idea for "Her Birthday Balloons" came to Richards after a chance encounter with two friends of their late best friend, April Pham. Inspired by the emotions that arose from that encounter, they set out to create a film that would capture the complexities of grief and the healing power of human connection.
The project was finalized in December of last year, after months of pre-production that began in August of 2022. While Mia didn't expect to be working on a film so early in their career, they were thrilled to have the opportunity to collaborate with two MFA students from the Seattle Film Institute on the film's original score, being one of four creatives who applied to achieve such.
Listening to samples of the score has been a surreal experience for Mia, who never imagined their first film would be backed by such a talented team of professionals. The process has been a learning experience for Mia, who has been inspired by the dedication and hard work of everyone involved in the project.
Looking ahead, Mia is excited to submit "Her Birthday Balloons" to film festivals and explore the full potential of the film. For those who are interested in seeing the film when it is released, it will be available on Mia's personal YouTube channel under their name.
Mia's advice to anyone who is passionate about storytelling is to never be afraid to take risks and pursue opportunities, even if they don't feel fully prepared. It only takes one "yes" to open the door to endless possibilities, and with dedication and hard work, anything is possible.
Mia Richards is a rising star in the world of filmmaking, and "Her Birthday Balloons" is just the beginning of what promises to be an exciting and inspiring career.