Robertson Alumna Receives National Association of Government Communicators Award
March 28, 2023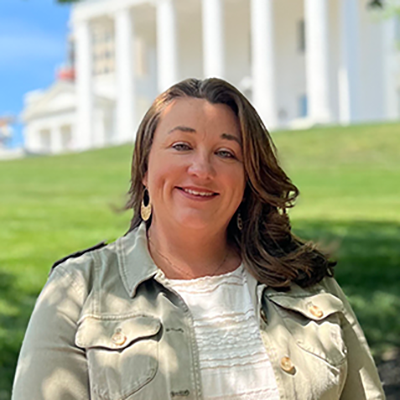 The National Association of Government Communicators names Dena Potter its 2022 Communicator of the Year. Potter is a 2001 graduate of Eastern Kentucky University, where she earned her bachelor's in Journalism, and a minor in Political Science. This set her up for a career in journalism, where she was the editor of her Kentucky hometown's community newspaper before moving to Richmond in 2005 to join The Associated Press. In 2014, she moved to the Virginia Department of General Services as its Director of Communications, and she decided to receive her master's in Mass Communication / Strategic Public Relations from VCU's Robertson School of Media and Culture.
"After receiving my master's, I felt armed with more skills and strategies on how to communicate effectively. It was a transition from being a reporter, to the one who [now] creates those communications that make news," says Potter.
She described it as a big career change, but one made easier by the fact that her department is extremely diverse. DGS, as it's known, oversees everything from the state's public health and environmental laboratory, to numerous high-profile construction projects, statewide procurement, real estate, permitted events on Capitol Square and much more.
"Some days I feel like I'm still reporting just trying to keep up with all the things going on in our department," Potter said.
Since her department touches so much of state government, Potter often gets pulled in to assist other agencies with communications issues. Her most challenging project came in February of 2021, when Governor Ralph Northam's office assigned Potter to lead strategic communications for Vaccinate Virginia, the state's new program to get Virginians vaccinated against COVID-19. Potter wanted to make sure she was doing everything to ensure individuals across the state knew exactly when they were eligible for a vaccine, because there was so much confusion surrounding eligibility. In the beginning, Virginia ranked 50th in the nation due to the low vaccination rates and the difficult rollout across the Commonwealth.
"The life or death of it was overwhelming," says Potter, recalling personal messages and news stories of Virginians struggling to understand when they could get a vaccine.
Potter led a team of public relations professionals from several state agencies, and their efforts, combined with strategic operational changes, made a huge difference. Virginia improved from trailing most states to consistently ranking in the top 10. During Potter's time with the Vaccinate Virginia campaign, the rate of vaccinations increased from 11.8 percent to well over 55 percent from February to May of 2021. Today, more than 82 percent of the population has received at least one dose, and over 72 percent are fully vaccinated.
She described this time as being filled with so much skepticism, from managing huge demand for a small supply of vaccine to convincing people to get it once the initial eager crowd was vaccinated, and additionally combatting outlets spreading misinformation about the pandemic and vaccines.
Following her return to her normal job at DGS, Potter oversaw communications for the removal of the Robert E. Lee statue that previously stood on Monument Avenue. She also was the project manager for the transition of power in state government, making sure the incoming Governor, Lieutenant Governor and Attorney General had transition office space, managing the move into and out of the Executive Mansion, and the move to permanent offices. She also was the executive branch project manager for the Inauguration, where all three statewide office holders take the oath of office.
All these high-profile communications projects led to her recognition by the National Association of Government Communicators.
"At the height of a global pandemic, Dena Potter rose to the challenge when state leaders called upon her to cultivate a communications plan that would resonate with the public and urge them to get vaccinated against COVID-19," said NAGC President Scott Thomsen. "Dena's efforts more than paid off."
Potter's recognition puts her into a small group of professionals from across the United States who exemplify professionalism within the communication field. Individuals rewarded with the Communicator of the Year title are only a small fraction of communicators between the three levels of government from which this award is chosen.
As an alumni of the Robertson School, we are grateful to see graduates excelling. With an award like this, not only does she exemplify what it means to be an industry communicator, but sets the standard for how communication should be handled in the government.
Statistics and other information regarding the award, from NAGC website