Longtime Robertson staff and instructor, Gary Gillam, retires.
Dec. 28, 2022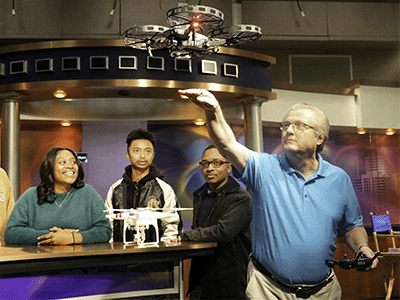 Starting in TV stations, Gillam rose to production manager of two stations finally settling here in Richmond where he worked as the Director of Creatives for WTVR in Richmond, Va. In 2007 by VCU, Gillam leveraged his industry experience to begin teaching in a last-minute call for a production instructor by the School.
During his time at VCU he taught MASC 415, MASC 367, and studio production which he continued to teach until his last semester. In these classes, he was able to share with students his love for the field and create a strong foundation for them to build on. As studio manager and instructor for the studio production classes, he was responsible for rebuilding the T.V. studio on the first floor of the T. Edward Temple building alongside his cohorts, Dr. Tim Bajkiewicz and John Geerdes.
In 2016, after acquiring an Federal Communications Commission (FCC) Unmanned Arial Vehicle (UAV) license just three days after it was available by the government. Gillam started the first QuadCopter class as a special topics course, which grew in popularity and offering to teach students how drones can be used as a tool for aerial videography. Gillam says the most fulfilling part of teaching for him was passing on his knowledge and love for videography, then watching his students use the skills to excel and succeed. Transitioning from the industry to that of a teacher, Gillam says that Dr. Tim Bajkiewicz was generous enough to mentor and guide him through the challenges every new instructor faces and continued, right up to the present day. Gillam fondly recalls when called "professor" by students he would often say that he wasn't a "Professor," but a "Professional."
"Professional" Gillam is happily enjoying the first official year of his retirement, and we which him the best and thank him for all that he did to elevate the School.