Bryan-Campos isn't just teaching journalism, she's cultivating citizens
Oct. 31, 2022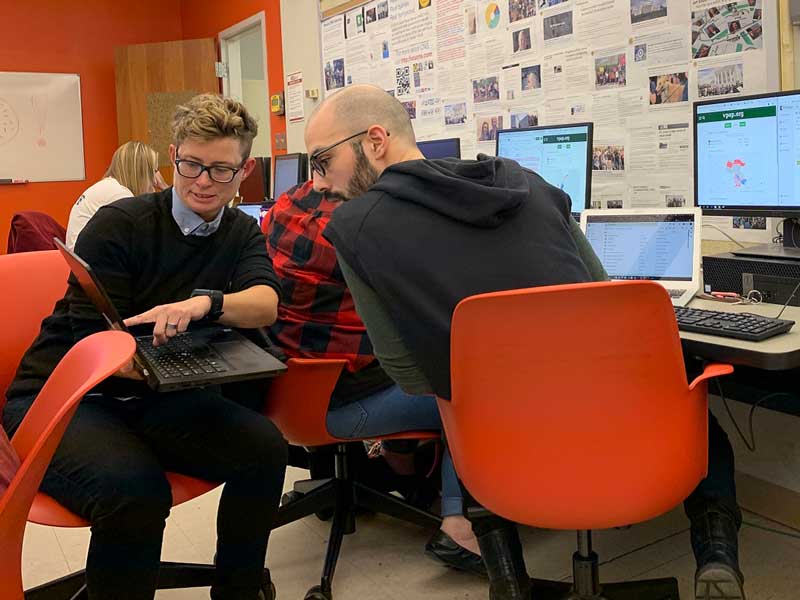 When talking about the awareness-building that happens in her classes, Professor Alix Bryan-Campos evokes a 2017 Virginia House of Delegates election that ended up in a tie.
"I've had students who say they didn't vote, that didn't think voting was important until they took my class," she says. "Then they see scenarios play out where a district race is decided by pulling a name out of a ceramic bowl. They really get to connect the dots and think, 'what if 10 more people my age had shown up at the polls that year?'"
Bryan-Campos is an assistant professor in the Robertson School of Media and Culture where she draws from an award-winning career in broadcast journalism to teach classes in the school's digital sequence, focusing on multimedia reporting, social media and participatory journalism. She also teaches Digital Management and Analytics in the online master's program.
Capital News Service
But her most demanding job is leading the Capital News Service (CNS). The ground-breaking program has reported on the activities of the Virginia General Assembly since 1994. It was created to give students on-the-ground journalism experience and help them build their portfolios while also supplementing the coverage smaller publications could provide. Articles from CNS are distributed to over 100 media organizations throughout Virginia and are regularly picked up by major news outlets like The Washington Post.
The most exciting part of my job is watching students become concerned about their community and empowered in speaking about it.

Alix Bryan-Campos
Bryan-Campos took over CNS in 2019, expanding it to a full-year, two-semester course for students who are interested. "There's a really steep learning curve, it's a lot to dive into, so the idea was that students could understand their role better through a year-round course," she explains.
The majority of students come in completely unaware of Virginia politics and policy. "Most students are learning about their community through alternative publications and channels," says Bryan-Campos. "They're not really watching and reading news, they're watching TikTok. So I have to do a lot of introductory work."
"But the most exciting part of my job is watching students become concerned about their community and empowered in speaking about it," she continues. "At the end of the two semesters, a student who is taking Capital News Service, they're little policy experts."
Higher Stakes
Bryan-Campos took over CNS from long-time director of the program, Jeff South, now an associate professor emeritus. He says that, given that CNS stories are often picked up by other outlets, the stakes are high. "Alix must ensure that every story is accurate, fair and balanced," South explains. "That requires far more work than in classes where journalism students' articles are read only by the instructor."
He says the extra work benefits everyone involved. "Students get 'clips' — bylines that will help launch their careers," he continues. "News outlets, often with thinly stretched staffs, get content, and readers get stories on important issues that otherwise might go unreported."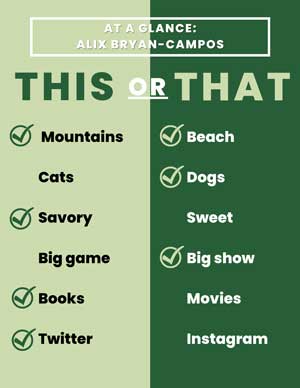 "So I am really happy that Alix has taken over CNS and kept the news service going," South says. "It's exciting to see the breadth of articles that the students produce. In many cases, they are stories you won't find anywhere else."
Familiar Tools in a New Context
Bryan-Campos earned both her Bachelor's and Master's degrees from VCU after growing up in Richmond. "I paid VCU for a long time and now they pay me," she jokes.
She started teaching here as an adjunct professor while still actively working in broadcast journalism, capping off more than 8 years at Tribune Media in the role of Senior Interactive Producer at Richmond TV station, WTVR / CBS 6. In 2018, her team at WTVR received a regional Edward R. Murrow Award for innovation based on a video series where she employed 360-degree or surround video to provide an immersive viewing experience.
Though her students are relatively tech-savvy, she finds they often need to rethink familiar tools in their work as journalists. "It's a generation that grew up with social media," she explains. "But they have used technology to make TikTok videos. They're not comfortable using those platforms with a tone of authority."
"It's fun to watch them understand these technologies in a completely new way," she says.
A Changing Landscape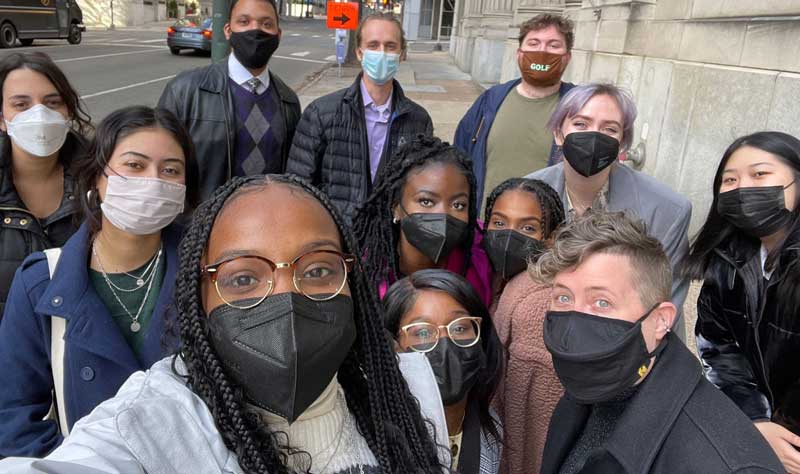 More daunting than the technology involved in modern journalism is the changing media landscape and the many skills a successful journalist needs to navigate it.
"When my generation started on social media, we saw the benefits to it and we saw some great things happen," says Bryan-Campos. "I met my wife essentially through Twitter. Now those social media spaces have a lot of vitriol so students are more hesitant. They're really terrified of cancel culture," she says.
Bryan-Campos says learning to be objective is a vital skill needed to be a successful journalist but almost as important is having empathy.
"I think that the media can be very reductive in how it tries to be so objective," she asserts. "If you're covering a murder or if you're covering poverty, it is okay to recognize that someone is experiencing distress."
Bryan-Campos also stresses to her students the need to get a diversity of perspectives, informed by her own experience in the LGBTQ+ community: "I love being at VCU because nobody blinks when I say, 'my wife and I did this' or tell funny anecdotes about our life."
"When it comes to diversity, we [journalists] are not supposed to put ourselves in our stories, you know," Bryan-Campos says. "But objectivity in a newsroom was originally drawn from a very white male perspective. Sometimes the idea of objectivity has been trying to make two things equal that just aren't. We can't ignore how our life experiences have informed our understanding of issues."
"I tell students to poke at something from multiple angles to examine 'where does the truth exist?' and help them understand it might not exist in any one place. You have to utilize diversity in perspective to get at the truth, or the multiple truths, of a story, then you use your objectivity to make sure everything is verified," she concludes.