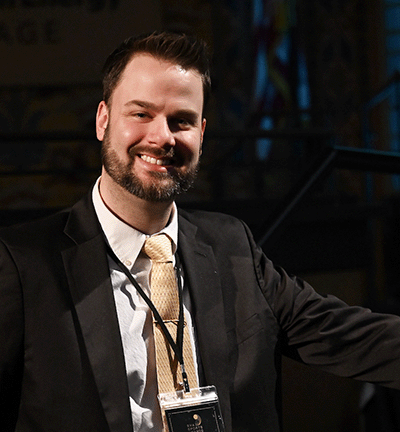 Steve Taggart
Media Engineer
Building Manager, T. Edward Temple Building
T. Edward Temple Building, First Floor, Media Equipment Room
Steve Taggart is the Media Engineer for the Richard T. Robertson School of Media and Culture. His primary duties include assisting students, faculty, and staff with all of the media equipment and technology the School has to offer. Simply put: when there's a tech issue, we call Steve. He's also the Building Manager for the T. Edward Temple Building; serving as a liaison for the School to Facilities Management and HASTECH.
Steve is a product of the Robertson School, earning his Bachelor's in Broadcast Journalism in 2010. While finishing his degree, Steve started his career in 2009 at Richmond's NBC affiliate as a News Content Specialist. He was promoted to Director within nine months before ultimately becoming the station's Production Coordinator in 2014. He managed a crew of 10 directors and production assistants who were on top of the news every day. He was nominated for two Emmy Awards while his crew took home over seven.
In his spare time, Steve enjoys watching sports and spending time with his wife Emily and his two children, Adam and Kyle. He also freelances as a videographer, technical director, and production assistant with the Richmond Flying Squirrels and the athletics departments at VCU, University of Richmond, William & Mary, JMU, and Longwood. Sports are a big part of Steve's personal and professional life. He's a die hard Atlanta Braves and San Francisco 49ers fan and even helped start a summer collegiate baseball team in Colonial Heights, Virginia where he served as the team's General Manager for two years.