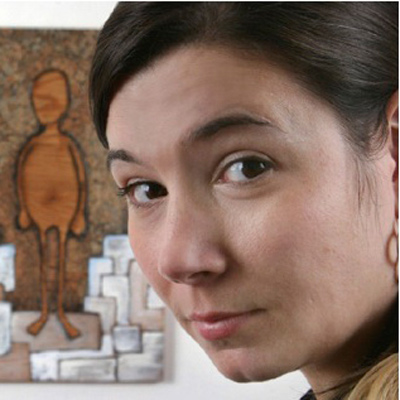 Bridget Camden
Associate Professor
(804) 828-2660
T. Edward Temple Building, 901 W. Main St., room 2208E
Advertising
Education
B.A., Virginia Commonwealth University
M.S., VCU Adcenter
M.F.A., School of Art Institute of Chicago
Background
Graduating from the nation's top universities with degrees in sculpture and advertising, Assoc. Professor Bridget Camden has played an integral role over the past years in transforming the Richard T. Robertson School of Media and Culture's creative advertising track into the high-caliber program it is today. Camden serves as the School's Coordinator for Special Projects.
Camden has led more than 140 student-advertising teams to win a multitude of local, national and international top-ranking industry awards including The One Show Student Competition, National Addy Awards and the Richmond Show. Her former students are now working at top advertising agencies around the world including Goodby, Silverstein and Partners, 72 and Sunny, Mother, CP+B, Wieden+Kennedy, Publicis, Y&R, Leo Burnett, JWT and more. Brands they have impacted include Old Spice, Nike, Coke, LensCrafters, Geico, Walmart, Ray-Ban, Nissan, Heineken, Sierra Mist, Pepsi, Microsoft, Macy's, Bing and more.
Camden first came to VCU as an undergraduate student, earning her Bachelor of Fine Art in sculpture. She then went on to the School of The Art Institute of Chicago, graduating with a Master of Fine Art. Camden later returned to VCU, earning her Master of Science in art direction from the Adcenter (now the Brandcenter). She has more than 20 years of professional creative advertising and visual arts experience, including the film industry.
Her ability to adapt and keep up with the endless changing landscape of the advertising industry can be seen in her teaching curriculum, as her students continue to excel at advertising award shows in the categories of integrated and digital technology, as well as nontraditional advertising.
Camden has continued to follow her passion for the arts and remains heavily involved in the local arts community. She shows her work regularly in galleries. She also continues her professional work as an art director and creative director.
As the program director for both the School's study abroad advertising programs in Amsterdam and London/Ireland, Camden offers students a first-hand, international experience.
Camden became a tenured professor in Summer 2011. She currently teaches MASC 394 Imagination, MASC 450 Style and the advertising capstone MASC 451 Invention.